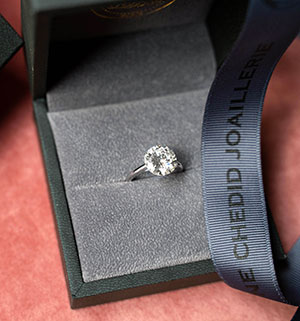 For 15 years, Karine has been designing engagement rings for her friends and the friends of her friends ... With a predilection for romantic frames, over which time has no hold. After having followed a jewelry drawing training course to understand the gouacher technique and then a technical drawing training at the Boulle School a few years ago, she offers her clients projects that meet their specifications and their wishes.

Creating a tailor-made jewel is not an easy undertaking because you have to try to "read between the lines", to appropriate the story of your client to best transcribe your aspirations. Karine always takes great pleasure in creating "inspirational paintings" to capture the desired atmosphere, colors, shapes and styles that will best meet the expectations of her clients.

During the first meeting, Karine tries to understand your request as well as possible by submitting a short interactive questionnaire, which addresses subjects as varied as the tastes of the person for whom the jewel is intended in terms of painting, music, architecture or even favorite countries or cultures ... The list is long but the conversation is always fluid and very cheerful! It is not uncommon for it to last around a drink, moreover ...

On the strength of these precious elements, Karine establishes a sort of "mood board" and compiles all these elements to derive from them what she likes to call "the substantive marrow". When the project has simmered well in her head, she proposes a series of 3 to 4 projects. These are explained and detailed and a budget is associated with each proposal.

After the time for reflection, there is usually a project that stands out and is then refined. The drawings can be modified, until the final sketch is obtained. A wax is then carried out in order to be able to visualize the volumes.

Then comes the "colors" component ... As soon as they are targeted, stones are pre-selected by Karine. All our suppliers hold the "RJC" label (Responsible Jewelry Council), which guarantees the ethical origin of materials for precious or semi-precious stones. All diamonds respect the Kimberley Process, which also guarantees traceability of gems from the rough to the cut stone.

We can also work with recycled stones, which come from old jewelry that we have acquired and taken apart, because the frames were damaged or because they were no longer up to date, for example. We are used to working with Family stones, which can be cut or repolished if necessary in order to optimize their beauty.

A detailed final estimate is finally established and production is launched after approval of this final estimate.

Throughout the manufacturing cycle, Karine supervises each step so that the finished product is perfect.

When the final touch has been provided by the workshop, your tailor-made jewel is ready to be delivered! You can choose to pick it up yourself at the workshop or you can opt for delivery by Colissimo against signature (see the "deliveries" section on the site).

Don't forget to send us pictures of your D-Day and give us your news!